Peter Ogik,
one of the founders and Chairperson of Source of the Nile Union of Persons with Albinism (SNUPA)
Peter Ogik, is one of the founders of Source of the Nile Union of Persons with Albinism, a non-profit organization in Jinja, Uganda, which advocates for human rights and access to quality services for people with albinism. Peter's birth was a real shock for his parents who had never seen a person with albinism.
Meet Peter Ogik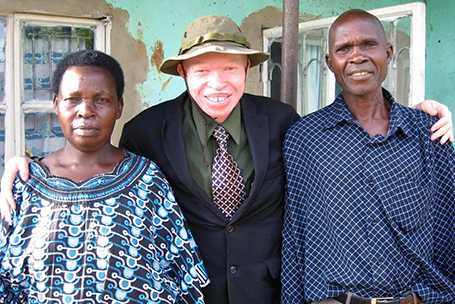 Early years
My name is Ogik Peter, born of Acheng and James Oringa in Jinja, Uganda. When I was born, my parents had never seen a person with albinism before. They told me that it really shocked their minds, and that they had no idea how to take care of me. As soon as I was born most of my parents' friends distanced themselves from our family, thinking that we were cursed. I grew up happy though; my parents were God fearing people and they loved me just as I was, they treated me the same as their other children.
Going to school
Life became harder when I started school. The children would mock me saying: "You are the result of a curse." This really used to hurt me. Whenever I heard those kind of words, I told my parents. My dad used to encourage me by saying: "Don't worry, you're very precious.They are just worried that you are better than them." But later he went to school and advocated for my rights.
I remember that whenever I had money for breakfast I would give it away, thinking that this would make them my friends. I'd also help them in school when they were struggling by answering questions for them.
I excelled academically even when things got tough and had to walk 12 kilometres to school. I used to do fishing on weekends and school holidays to get money for my tuition, regardless of too much sun shine which didn't favour my condition; I never gave up on life. At times I had only one meal a day and couldn't manage to buy my scholastic materials. Wherever l went, I tried to go beyond people's expectations and told myself never to give up and that no matter what happens I will continue to struggle for a better future.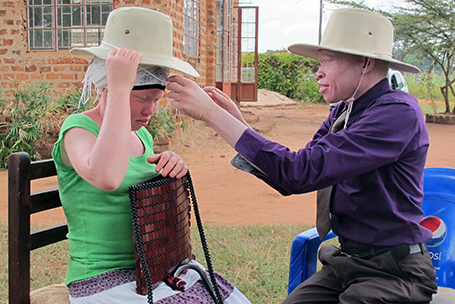 Choosing to make a difference
Although my family was not good financially, I worked my way through high school and eventually to university. I stopped fishing because my skin was always burnt by hot sunshine and decided to look for other jobs to suport my studies. This did not work out for me; I remember applying for a job, and the owner of the business responded: "I can't give you a job, you'd scare my customers." At least he was honest; but most people simply didn't reply and instead ignored my applications.
When I was at university, with the support of ADD International and my friend Fazira Kawuma, we gathered other people with albinism in Busoga subregion, Eastern Uganda in November2012 to discuss our challenges and how to overcome them. We made a resolution to form an organization that would unite us and in May 2013 we formed Source of the Nile Union of Persons with Albinism (SNUPA).
This organization involves practical work under thematic areas of economic empowerment, awareness raising, education, capacity building and health. We provide free skin cancer treatment and sun protection materials. SNUPA also advocates for human rights for people with albinism in Uganda.
I also work with ADD International in Uganda and Advantage Africa to raise awareness about albinism and the challenges faced by people with albinism and their families. I am the Chairperson of SNUPA and Chaiperson of the Youth Committee under National Union of Disabled persons of Uganda (NUDIPU).
---
For more information about Peter and his work:
Facebook: ogik.Peter
Facebook: snupalbinism (Source of the Nile Union of Persons with Albinism)
Twitter: ogikpeter
Instagram: ogikpeter